Guy C. Perry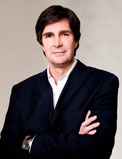 Guy C. Perry
President & Founder
Guy Perry, is a French American architect and urban planner with development and design experience on five continents. Prior to founding IN-VI, Guy was Senior Vice President with TrizecHahn overseeing the design and development of projects throughout Europe. Among them the development strategy and award winning master-planning of the 169 hectare Wilanów (Warsaw) community. As well as two winning entries for the 27 hectare Palma de Mallorca port redevelopment competition.
Guy was also Vice-President of HOK Intercontinental and worked 7 years with Kajima Corporation in Tokyo, Paris and Brussels as Project Manager on a range of developments. Early in his career Guy worked for Ricardo Bofill on the design of projects like the Barcelona Olympics, the Antigone district of Montpellier, France and the SWIFT head quarters in Brussels. For SOM he designed a bank facility in the San Francisco bay area. He redesigned Houston's principal city park with the late Charles Moore and studied growth strategies for downtown Houston for Hines and Cadilac Fairview.
Over the past few years Guy has led research efforts for design and development strategies at Harvard University, MIT and the University of Toronto. He has presented at United Nations in New York and Geneva, as well as, MIPIM, Barcelona Meeting Point, Cityscape and ULI conferences worldwide regarding strategies for sustainable urban development. In Japan, Guy was senior coordinator of the Smithsonian Institutions first Emmy award winning documentary film: Dream Window. He was honoured with the Smithson medal from that institution. Guy earned two masters degrees from Harvard University.
Guy is fluent in English, French and Spanish.