Anna Mirska-Perry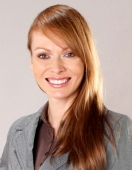 Anna Mirska-Perry
COO
is the Chief Operating Officer of IN-VI Investment Vision AG currently with most focus on the polish daughter company Investment Environments as proxy. Anna joined IN-VI in mid 2006 as International Marketing and PR Director. Having been a journalist and an editor for five years in Poland for leading national newspapers (e.g. "Życie", "Życie Warszawy", and "Metro" - part of "Gazeta Wyborcza") she was able to deal with complex public relation issues occurring while IN-VI projects were marketed and developed throughout central Europe. Prior to IN-VI, as an international real estate event organizer, she learned about the property business and established many key contacts with decision makers throughout this field, generating substantial commissions for the company. For three years she was a conference producer for Eurobuild Poland and The Report – with which she organized conferences in Barcelona, Kiev, Warsaw, Gdansk and Krakow as well as an international economic forum in London. Currently at IN-VI she has a managing and administrative role overseeing the company operations in the Swiss and Polish offices.
Anna is social activist by heart and for eight years had been an entrepreneur leading her own event company which was established in 2005. She organized the opening event including the press conference for the "Ferio Gaj" shopping center in Wrocław for Raiffeisen Evolution Project Development. More over Anna successfully created and organized five editions of her own event "Anny dla Anny Dymnej" which quickly became one of Poland's leading charity events. "Anny dla Anny" has raised hundreds of thousands of złotys for mentally disabled children and adults (annydlaanny.pl and THE EVENT LATEST MOVIE).
In 2011 Anna has received a commendation from Gazeta Finansowa for initiating and organizing "Anny dla Anny" event: THE AWARD CEREMONY MOVIE . The newspaper acknowledges individuals, companies and organizations for their corporate social responsibility in everyday's business.
Together with her husband Guy, Anna and the IN-VI team has organized and coordinated ten "Move & Plant" community actions that took place in "Miasteczko Wilanów" distric of Warsaw – a project at the heart of IN-VI's practice from the outset. Together with Miasteczko Wilanów residences they have planted hundreds of trees, thousands of bushes and flowers, cut, weed, cleaned canals, removed illegal signage and installed urban furniture setting up standards within the community that should be followed by public, private and semiprivate entities. Anna and Guy were the catalyst of this positive change and movement. IN-VI and the residents were nominated for the good citizen award "Stołek", not only for the positive physical and social impact, but for the ensuing administrative changes to the opaque local government which initially formally opposed the actions.
Anna graduated from Warsaw University with a master degree in political science. She also holds a graduate degree in journalism from Melchior Wańkowicz University. She speaks in Polish, English and has a working knowledge of Italian. She is mother of two.